Resin flooring specification - avoiding headaches with the right technology

I've always believed a thriving resin flooring industry is possible only if we can educate the general flooring market, and I've written a lot of material in the past aimed at doing just that.
In the upcoming posts I'll re-visit a series of short articles I put together for my decorative resin flooring brand, Floorchef, which was aimed at helping architects, interior designers and other specifiers avoid common headaches associated with flooring specification.

What is the right resin flooring technology?


Here's a great tip for avoiding resin flooring headaches: do some homework on what type of resin flooring technology suits your needs best before you even think about getting a quote. Despite some marketing claims, there's no single product that's right for every flooring project!

Installing the ideal resin floor isn't just about putting down something that looks great, although that's obviously a big part. You also need to understand what's required in a number of not-so-obvious areas before you can find the right solution.


Some starting-point resin flooring questions


Will I need a thick or a thin floor coating? For instance, does my floor need to be re-built to a certain height, have drainage built in or cope with hot/cold liquids (thick); or, is it simply a matter of applying a thin film on top of a perfectly flat concrete slab to make it look better?


What condition is my concrete in? Is it weak and powdery? Will moisture in the concrete be an issue?

Am I after a decorative resin floor with a bit of "wow factor" or will plain colour do?


What time of year will work begin? Are conditions expected to be hot, cold, wet or dry?


How long can I afford to be off the floor? Can I handle an average turnaround of a few days or do things need to happen quicker, e.g. overnight?


Is the surrounding environment sensitive? Will solvents or any other hazards pose an unacceptable risk?


What traffic will the floor receive? Will slip resistance be required?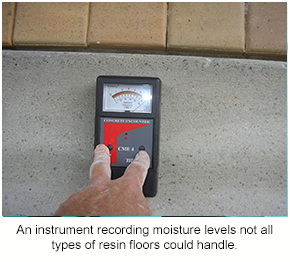 The right resin floor should now be getting clearer!


Only after you've sifted through questions like these will you start to form a clearer picture of which resin flooring road you should be taking. Will the technology be an epoxy, polyurethane, polyurea, polyaspartic or MMA? Once again, perhaps the key message when it comes to resin flooring technology is that every type has advantages and disadvantages, and thinking one can do it all will only set you up for some major headaches.

Take care and keep smiling,
Jack