About Epoxy School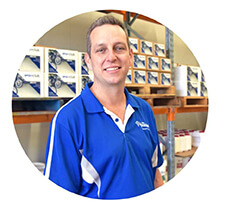 Epoxy School was formed by Jack Josephsen, or "Resin Jack", as he is known. For 20 years he has been helping resin flooring businesses solve their problems and working towards his own personal goal of making resin flooring mainstream.

One of the biggest problems Jack identified when he first entered the industry was a knowledge gap between the manufacturers and epoxy users that was causing preventable failures and stopping the industry from ever reaching its full potential.

To address this concern, he created the Epoxy School.
What started out in 2010 as an information hub for epoxy contractors to learn more about their craft, slowly became the No.1 destination for beginners through the popularity of Jack's online courses that focused strongly on the good habits behind successful epoxy flooring.

In addition to his education efforts at Epoxy School, Jack has also published a 210-page epoxy contractor handbook titled: "Finally, real answers for real contractors – Industrial Flooring", which is available through NACE and Amazon. Find out why it's received 5-star reviews and has been endorsed by major industry bodies by clicking on the book image below and grabbing yourself a copy.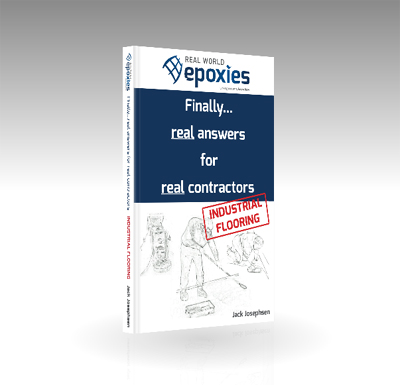 You can find out more about Jack and his work within the resin flooring industry below:

LinkedIn
Resin Flooring International (RFI)
Real World Epoxies
Frequently Asked Questions

Q. How do I get started?
Click on the Courses menu tab to read about the various learning options we offer and who they're most suitable for. Once you decide on the option you want to take, hit the Get Started button at the bottom of the page.
PLEASE NOTE: If you're looking to take the Bronze Card Course, you will need to enrol through the Resin Flooring International website – click here to view the course page on RFI.


Q. Who are the courses suitable for?
Anyone looking to get started with epoxy flooring! The training videos place a strong emphasis on teaching good habits and the "why", not just the "how", behind epoxy flooring.


Q. What topics do the courses cover?
Brief summaries and course outlines of the content are shown on the course pages.
A copy of these documents will be sent via email once you fill out the Get Started form at the bottom of the page.


Q. Do you include 3D flooring in your courses?
No. 3D flooring is not for beginners. We strongly recommend you complete the full Start-up Course and put what you learn into practice before attempting 3D floors.


Q. How is the learning material delivered?
The online courses are primarily video based, however some of the topics are covered in text and require reading.


Q. How long do I gain access to the courses for?
Once you pay for a course you have immediate access to the content for as long as you like. This allows students to learn at their own pace and refresh what they've learnt whenever they need to, even after they've finished the assessment!


Q. What about hands-on training? Are videos enough?
Over the years we've provided hands-on epoxy training courses as well as online courses and feel both have limitations.

With one-day courses, the main issues are content depth and retention, i.e. there's only so much you can teach in one day and most of it has been forgotten in a week anyway. Not only that, but the value of these courses can suffer if not all of the material is relevant to everyone involved.

With online training videos, the obvious downfall is gaining hands-on experience with the products involved. It's very hard to learn properly by watching an expert quickly splash around products while dropping a few tips here and there.
We feel the best way to learn is through a combination of both. The videos in our courses are based on the one-day training courses we've conducted in the past, containing a strong hands-on element that encourages participants to practice what they've learnt along the way.
The best thing is if you forget what you've learnt at any stage you can easily jump back online and refresh your memory!


Q. What if I am unhappy with the course?
We would never want you to be unhappy! If you are unsatisfied with your purchase, contact us within 30 days of enrolling and we'll give you a full refund.


Q. What do I get for completing the courses?
All students who successfully complete the full Bronze Card Course on Resin Flooring International will have their own personal resin card sent to them in the mail.
You can read more about Resin Flooring International on the organisation's website – Resin Flooring International

All students who successfully complete one of the short courses will receive a certificate of completion via email.


Q. I have done a course, what's the next step?
The best thing you can do after completing any of the courses is to practice what you've learnt.
The courses are designed to be "non-brand specific", which means you will be able to apply what you learn to ANY two-pack solventless epoxy coatings. All you have to do is find a local supplier of these types of floor coatings, which should be possible through a Google search.
If you want more specific guidance or advice about your area and the products available, join the Epoxy School Facebook group and see if there other members close by.