Resin Flooring Network - important updates on resin flooring training
With the 3-month review for the draft framework now over, things are moving again on the Resin Flooring Network and I have a couple of important updates to pass on.
As a quick reminder, a draft framework for the future resin flooring training program was posted on the website (www.resinflooring.network) towards the end of last year so that stakeholders could see what it looked like and contribute to developing it further.
From the feedback received over this period, we've been able to gain greater clarity on what manufacturers, contractors, specifiers and consumers think about the resin flooring industry as a whole – both now and into the future.
Framework review – facts and figures


Before we go into those matters, I'd like to take a quick step back and give you a better idea of the response we received during the review period.

In measurable terms, the breakdown looked something like this –
Approximately 5000 page views in total. From the Resin Flooring Network website statistics alone we can see this included interest from over 20 different countries.
Almost 50 comments submitted online, with many more coming through directly via email and phone.
Almost 200 post Likes on LinkedIn and Facebook.
Over 60 post Shares on LinkedIn and Facebook.

All things considered, these reflect a healthy level of interest surrounding the industry and the establishment of a professional resin flooring network. In addition to the bare statistics presented above, we also received tremendous encouragement in the form of many compliments on the network concept, and, offers from several manufacturers and contractors to contribute priceless in-house training material.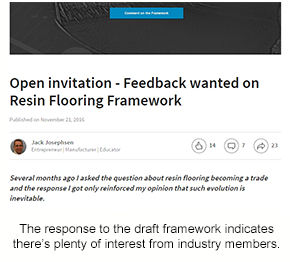 A demand for resin flooring training

OK, now onto the interesting part. What did the review period actually tell us? What needs to happen from here? Well, I think what we've seen and heard over this time only strengthens my belief that resin flooring can and will become a professional, recognised trade.
As with any trade, proper training is the key building block. At the moment, training for contractors is only available through splintered courses in other trades or from their employers. Because of this, there's a heavy demand for two types of programs in particular –
Start-up/beginner courses – a greater variety of shorter courses to make sure entry-level contractors understand the basics of resin flooring and have a solid foundation for further training.
Trade course – an industry-wide program that brings all contractors up to a minimum standard of competency in all elements of the framework. Such a course will provide both theoretical and practical assessment for contractors and lead to a full trade qualification.


What's next for the Resin Flooring Network?

While a resin flooring trade course is an exciting step for the industry, it's obviously a big task that will take time. The framework, therefore, will remain posted on the website and stay open for comments, suggestions and other forms of feedback. Once again I warmly invite you to get in touch if you'd like to get involved with the development of this course at any level.
In the meantime, the Resin Flooring Network has added a page on their website with the aim of giving contractors a single resource to find current resin flooring training options from around the globe. It's only in the early stages obviously, but you can see what I mean here – www.resinflooring.network/training.
To be listed, courses –
Must be a genuine training tool and not a marketing exercise.
Must not be product specific.
Must clearly relate to an element or elements of the resin flooring framework published on the Resin Flooring Network website.
If you have a course that ticks these boxes and would like it listed on the Resin Flooring Network, please get in touch!
Take care and keep smiling,
Jack