Resin flooring framework - feedback wanted on thin-film rollcoats
With the Resin Flooring Network website launched and the 3-month review period for the draft framework underway, I've put together a series of posts aimed at encouraging input from industry stakeholders.
Over the coming weeks I'll be posting the core elements of the draft framework so that everyone can see what the training program looks like so far and, more importantly, how they might contribute to developing it further.
The fifth element is thin-film rollcoats, with the proposed Scope, Key Learning Outcomes, Theoretical Assessment Criteria and Practical Assessment Criteria detailed below.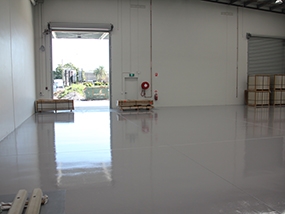 Thin-film Rollcoats
Scope

This module covers light to medium-duty flooring options that are applied by roller or spray and able withstand testing traffic such as forklifts. Total dry film is typically between 200-800 microns/8-32 mils and finishes can be clear, pigmented or even fibre-reinforced.
Key Learning Outcomes

To be able to select and apply a suitable flooring system with multiple rollcoats, taking into consideration conditions, substrate and project requirements.
Theoretical Assessment Criteria

Explain:
The typical capabilities and limitations of thin-film rollcoat systems with respect to properties such as finish, speed, wear/chemical/impact/thermal resistance etc.
The product selection and application process for clear rollcoat systems.
The product selection and application process for single, solid-colour rollcoat systems, including fibre-reinforced.

Practical Assessment Criteria

Demonstrate:
The ability to patch or over-coat an existing resin floor with a rollcoat system.
The ability to prepare a floor area for rollcoat application, including suitable surface preparation, taping, transitions etc.
The effective application of a clear rollcoat system.
The effective application of a single, solid-colour rollcoat system.

We want your feedback!

This draft is intended as a starting point for discussion only and we welcome honest feedback from all stakeholders – the good, the bad and the ugly! If you'd like to suggest any changes or additions to improve this element of training, please add your comment on the dedicated Resin Flooring Network page –
CLICK HERE.
Take care and keep smiling,
Jack