Resin flooring framework - feedback wanted on substrate assessment
With the Resin Flooring Network website launched last week and the 3-month review period for the draft framework now underway, I thought some gentle nudging was in order.
Over the coming weeks I'll be posting the core elements of the draft framework so that everyone can see what the training program looks like so far and, more importantly, how they might contribute to developing it further.
The first element is substrate assessment, with the proposed Scope, Key Learning Outcomes, Theoretical Assessment Criteria and Practical Assessment Criteria detailed below.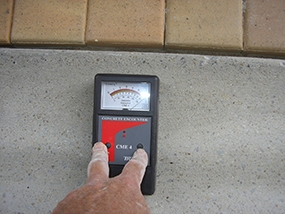 Substrate Assessment
Scope

Not every resin floor is a simple case of grinding and rolling. The ability to assess the condition of the floor in front of you and come up with an action plan that cleans, repairs, levels, seals, and even protects if required, is absolutely vital. This element takes a look at the things that come into play before a resin floor goes down – oil/grease contamination, porosity, moisture, flatness etc.
Key Learning Outcomes

To be able to measure and adapt in typical field scenarios so that problems don't arise as a result of the substrate's condition.
Theoretical Assessment Criteria

Explain:
The typical sources of contamination.
How moisture-measuring devices work and how to interpret the results, both individually and in combination.
What an acceptable substrate looks like for different flooring systems with respect to concrete porosity, flatness, smoothness and protrusions.
How to determine when a ramp is required and the installation process with regards to load requirements.

Practical Assessment Criteria

Demonstrate:
The effective assessment of a substrate with respect to the flooring tasks listed above.

We want your feedback!

This draft is intended as a starting point for discussion only and we welcome honest feedback from all stakeholders – the good, the bad and the ugly! If you'd like to suggest any changes or additions to improve this element of training, please add your comment on the dedicated Resin Flooring Network page –
CLICK HERE.
Take care and keep smiling,
Jack