Resin flooring framework - feedback wanted on self-level systems
With the Resin Flooring Network website launched and the 3-month review period for the draft framework underway, I've put together a series of posts aimed at encouraging input from industry stakeholders.
Over the coming weeks I'll be posting the core elements of the draft framework so that everyone can see what the training program looks like so far and, more importantly, how they might contribute to developing it further.
The seventh element is self-level systems, with the proposed Scope, Key Learning Outcomes, Theoretical Assessment Criteria and Practical Assessment Criteria detailed below.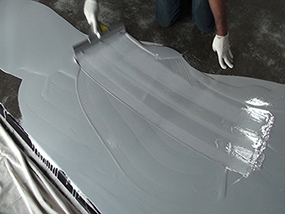 Self-level Systems
Scope

Self-level flooring can be used to repair, re-level and form smooth, high-gloss finishes in one step. While it's typically used in medium-duty conditions, the glossy finish means it can also be adopted for more decorative spaces, such as showrooms. Application is with rakes or trowels at 1.5-3mm/60-120 mils and often done in combination with a spike roller to get the film as flat as possible.
Key Learning Outcomes

To be able to select and apply a suitable self-level flooring system, taking into consideration conditions, substrate and project requirements.
Theoretical Assessment Criteria

Explain:
Why self-level flooring systems are used and the roles they play.
The extra measures typically used before and after self-level application to ensure a smooth finish.
The different methods and tools used to apply self-level systems.

Practical Assessment Criteria

Demonstrate:
The effective application of a self-level flooring system "by eye" using a trowel.
The effective application of a self-level flooring system using gauging tools such as gauge rakes, pin rakes or notched trowels.

We want your feedback!

This draft is intended as a starting point for discussion only and we welcome honest feedback from all stakeholders – the good, the bad and the ugly! If you'd like to suggest any changes or additions to improve this element of training, please add your comment on the dedicated Resin Flooring Network page – CLICK HERE.
Take care and keep smiling,
Jack