Resin flooring framework - feedback wanted on broadcast systems
With the Resin Flooring Network website launched and the 3-month review period for the draft framework underway, I've put together a series of posts aimed at encouraging input from industry stakeholders.
Over the coming weeks I'll be posting the core elements of the draft framework so that everyone can see what the training program looks like so far and, more importantly, how they might contribute to developing it further.
The sixth element is broadcast systems, with the proposed Scope, Key Learning Outcomes, Theoretical Assessment Criteria and Practical Assessment Criteria detailed below.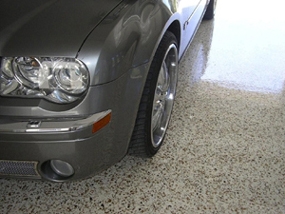 Broadcast Systems
Scope

Broadcast flooring systems are the result of combining thin-film rollcoats with a broadcast material – sand and aluminium oxide for functional non-slip floors, or, flake and coloured quartz for more decorative applications. These types of floors range from medium through to heavy-duty, and have a total dry film thickness anywhere between 500-3000 microns/20-120 mils.
Key Learning Outcomes

To be able to select and apply a suitable broadcast flooring system, taking into consideration conditions, substrate and project requirements.
Theoretical Assessment Criteria

Explain:
The different types of broadcast media and their suitability for various flooring applications.
The product selection and application process for flake floor.
The product selection and application process for a functional non-slip floor.

Practical Assessment Criteria

Demonstrate:
The effective application of a flake flooring system.
The effective application of a non-slip flooring system using a partial broadcast.
The effective application of a non-slip flooring system using a full/saturated broadcast.

We want your feedback!

This draft is intended as a starting point for discussion only and we welcome honest feedback from all stakeholders – the good, the bad and the ugly! If you'd like to suggest any changes or additions to improve this element of training, please add your comment on the dedicated Resin Flooring Network page –
CLICK HERE.
Take care and keep smiling,
Jack