More resources for contractors and consumers now on the Resin Flooring Network
I have another quick round of updates on the Resin Flooring Network as it continues working at training, promoting and improving the resin flooring industry.
A couple of months ago I posted a summary of the draft framework feedback and what it meant for all of us with regards to the industry becoming a professional, recognised trade. If you missed that post, please take a quick look here.
At the same time, we've been looking for other ways to help the resin flooring community and have added a number of website features I think will have a big impact.

Resin Flooring Network and contractors

As the heart and soul of the resin flooring industry, the Resin Flooring Network is passionate about helping contractors develop their craft and build their businesses.
We've already added a page on the website with the aim of helping resin flooring contractors find training options around the globe. It's only in the early stages, but you can see what I mean here – www.resinflooring.network/contractors/training.
In addition to that, we're excited to announce the opening of Trade Talk – the only blog written by industry experts exclusively for resin flooring contractors.
Although written by experts, Trade Talk isn't designed to be an elite space or technical forum. It's about real people coming together to make a big difference – to openly share their knowledge without any "smoke and mirrors" or sales talk, so that the whole industry can thrive.
If you're a contractor looking for a better place online that talks resin flooring and resin flooring only, check out Trade Talk – www.resinflooring.network/contractors/trade-talk-blog.
If you're an expert in any area of resin flooring, why not contribute to Trade Talk and make a real difference to those needing answers? We're looking for more contributors and we'd love to hear from you. You don't have to be a great writer either; a few bullet points on any topic and a willingness to share is what Trade Talk's all about.

Resin Flooring Network and consumers

One of the great challenges for resin flooring is competing with the traditional flooring options and, to make real progress in this area, we need more education and more promotion aimed at floor owners. The Resin Flooring Network is tackling these issues with a couple of initiatives that we can all build together.
As the name suggests, the Consumer Guides page is dedicated to educating consumers on all aspects of resin flooring so they can make informed decisions and get closer to the resin floor they've always wanted. A bunch of guides have already been donated, which you can see here – www.resinflooring.network/consumers/consumer-guides.
Resin Rave, on the other hand, is a promotional tool showcasing fantastic resin flooring projects so that floor owners can see the true capability of resin floors. Take a look at some of the outstanding work already posted here – www.resinflooring.network/consumers/resin-rave.

These are initiatives the industry as a whole can get behind to make an impression on the floor owners out there. If you're a contractor doing great floors, post them on Resin Rave and drop some jaws. If you're a manufacturer that's put together help guides in the past, why not put them on the Resin Flooring Network and help even more people?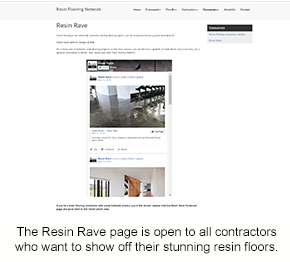 Resin Flooring Network and the Five Rs

A couple of months ago I wrote an opinion piece on what I believed to be the keys to resin flooring success – the so-called Five Rs. You can read the original concept here. The response I got to that post encouraged me to develop those ideas further with the aim of turning the Five Rs into a practical resource for the resin flooring industry – a blueprint that can be used by all contractors, manufacturers and specifiers to help get the best possible results in the flooring projects they take on.
Just as we did with the training framework, we thought the best way to build something of real value was to open it up and see what the resin flooring community had to say. While some basic elements of each stage have been listed as a starting point, we are seeking constructive feedback from industry members on what should be included in the Five Rs - www.resinflooring.network/five-rs/five-r-overview.
Before I go, I just wanted to underline the fact that the Resin Flooring Network has been created to serve the resin flooring community and is built on the belief that we are all in this together. If you're passionate about improving the industry and think you can contribute or support in any way, please send me an email and get involved!

Take care and keep smiling,
Jack