Epoxy opinion - should resin flooring become a trade?

There's always been a gaping hole in the resin flooring industry and I think the time has come to fix it - the time has come to make resin flooring a proper trade!
As radical as it may sound, this isn't a completely new concept. In fact, I've already been a part of several interesting discussions on LinkedIn in recent times where formal training and the idea of a resin flooring body have been raised - and with good reason from where I sit.
Right now in Australia, the federal government has identified flooring finishers as a major area of skill shortage based on industry growth forecasts. I've also read similar articles from other countries about the emerging popularity of resin flooring and the opportunities arising as a result. While this is exciting news, I can't help but wonder what happens if we don't prepare ourselves and get on top of the inevitable growing pains.
For instance, will the increased demand entice unskilled, unlicensed workers to simply walk off the streets and start doing resin floors? I certainly hope not because in some ways it feels like our industry is already in a damaging race to the bottom. For resin flooring to reach its potential and become a genuine mainstream flooring alternative to tiles, carpet, timber and vinyl, this type of scenario must be avoided. It needs to get serious about the way it attracts and develops talent, among other things. In short, I believe it needs to become a trade; a profession we can all be proud of.
A resin flooring profession

So, what does a "profession" actually look like in our language? Well, I feel we should be aiming to create an industry with the following -
An internationally recognised and accepted best practices standard for resin flooring.
An international body that promotes the adoption of the standards and drives the professional conduct of all stakeholders - manufacturers, specifiers and contractors.
A recognised training program and practical assessment based on the extension of the standards.
Where applicable, a government-recognised qualification or trade license connected to the training program and practical assessment.
At the moment it obviously looks nothing like this. If contractors get any practical training at all it's through splintered courses in other trades or from their employers that are often self-taught and keen to hold onto their IP. It feels all very murky and unstructured on every level. We desperately need to tighten things up and establish a recognised trade so that we're no longer hiding in the shadows of the wider flooring industry.
Driven by the people

When I first started thinking about how a resin flooring trade could get off the ground, I must admit the enormity of it all made my head spin. It just seemed like an impossible task! With some preliminary research now under my belt, I think the most encouraging thing I've come to realise is that we're not the first to have this dilemma. Other industries have got to the same point in the same haphazard way, but then evolved into proud professions with standalone qualifications and a real presence.
I strongly believe we can do the same and tentative meetings with our national licensing authority, national training body, a registered national training provider, and even the president of a rival flooring organisation, have only confirmed that view. In fact, the take-home message I got from all those discussions was that reforms like these were very doable if the industry as a whole felt the need. From what I sense, we're very close to that point. We have a global landscape crying out for a better way and a great opportunity to do something about it under one, united banner.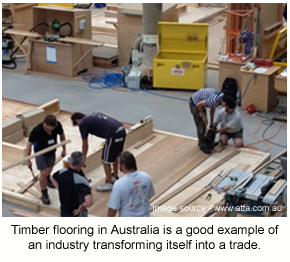 Your thoughts on a resin flooring trade

At the end of the day these are only my thoughts on where the resin flooring industry is placed right now and, as I just mentioned, it takes many more thinking the same way to get real change happening. So, I want to pass it over to you. What are your thoughts on resin flooring becoming a proper trade? Do you think there's a need? If you have concerns, let's hear them. If you like the concept and would support it then put your hand up.
There is only one condition of your comment: please leave egos and agendas at the door. It is hoped this post prompts an open, productive discussion about ways we can improve our industry and it won't work if people are made to feel uncomfortable voicing their opinion or it gets hijacked for personal gain.
Take care and keep smiling,
Jack