Epoxy opinion - feedback wanted on resin flooring framework
Several months ago I asked the question about resin flooring becoming a trade and the response I got only reinforced my opinion that such evolution is inevitable.
As daunting as this may sound, the good news is that we have a completely blank canvas to work with. Before we start to sprout splintered groups, associations and programs, there's a tremendous opportunity to work together from the same fundamental starting point and do it right, so to speak.
In light of this, I have sought to provide a suitable starting point by creating the Resin Flooring Network (www.resinflooring.network). As you will read on the site, the network is an industry-driven body set up for purpose, not for profit, and a big part of that purpose is to provide a platform for stakeholders to help develop best practices for resin flooring.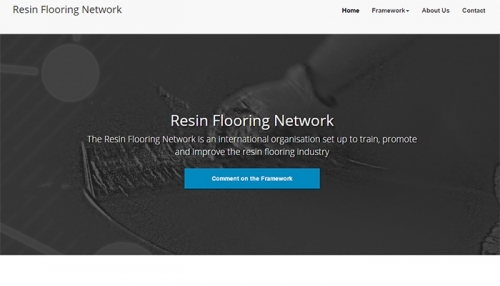 A draft framework is ready for review

To get things underway, a draft framework has already been posted on the site and, for the next 3 months, is open to review by all interested stakeholders. This framework will form the basis for any future resin flooring training program, so it's absolutely critical that we get input from as many industry members as possible over this consultation period.
Although the Resin Flooring Network is only new, the framework itself is a result of much groundwork over more than three years, including extensive discussions with various organisations and government bodies to ensure compatibility with their own training and assessment programs.
Professionalising the resin flooring industry

While getting the framework in place is an important step, it is only the first in a bigger picture to help professionalise the resin flooring industry. We envisage that process will look something like the following:
Stage 1 - Develop proposed framework and consult industry on the original composition of the 10 core elements.
Stage 2 - Convert framework into a pilot training program that can be conducted online and in classrooms (where local training is possible).
Stage 3 - Expand pilot training program into a full course with practical assessment.
Stage 4 - Develop a "train the trainers" program to assist local trainers deliver the course in a consistent manner.
Stage 5 - Partner with entities that would like to customise and deliver the course in their country.
Stage 6 - Assist international partners establish a local resin flooring industry and industry representation if required by local governments.
Stage 7 - Develop a Continuing Professional Development (CPD) program to help specifiers, architects and designers produce effective specifications.
Stage 8 - Develop consumer education programs to raise the profile of resin flooring and help consumers understand more about its capabilities and limitations.
Stage 9 - Conduct an industry-wide review after 3 years to evaluate progress and determine future direction.
We want your feedback!

The establishment of the Resin Flooring Network is all about trying to build a better coatings industry and I'm very excited to send this open invitation to all resin flooring stakeholders – suppliers, manufacturers, specifiers and contractors/applicators – to contribute their thoughts and ideas. Simply click on the website link above and place your comments in the boxes provided.
Also, it's very important that we involve as many people as possible at this early stage, so please like and share this post freely.
Take care and keep smiling,
Jack